Winner, Outside Sales Person of the Year, New Home Council Tribute Awards (New Construction)
John L. Scott Top 1-2% of All Brokers, Multiple Years, Chairmans Circle
Seattle Magazine Multi-Year Winner "Five Star Best in Client Satisfaction"
CSP (Certified New Homes Sales Professional)
Residential resale/New Construction
First time home-buying
Marketing strategies to get your home sold
Negotiation Strategies
Investments and second homes
Chosen among thousands of local Realtors as one of the top "technology"
agents and featured in the Seattle Times!
I am a local product (born in Seattle, live in Redmond area) with a 10 year stint in Yokohama, Japan.
I have a beautiful 21 year old daughter (that's her excited about a pine cone to the right!) that was in the Lake Washington School District.
She was also in the Gifted program -- I created, administered and maintained that website as well as am a registered volunteer for the district. She is now at the University of Washington studying neurobiology!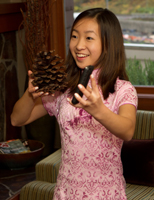 I am committed to providing you with excellence in service to aid your quest in buying or selling your home(s).

I bring my multitude of successes in business as Vice President of Marketing & Sales, a scientist and a musician to truly listen and understand your home & real estate needs and desires.

My negotiating skills have allowed my clients to experience some great savings in purchase price when buying and my seller clients were able to maximize their home value.Feel free to look through my current and past listings to view some examples of my listings.
I use the internet and social media heavily for marketing and pre-marketing for my listings in addition to mailings and reaching out to my large sphere of contacts which results in higher traffic to the listings and top dollar for the property.
I try to preview each and every home for my buyer clients and am out in the field every day!
Chances are, I've already seen the home that a buyer client is wanting to view or purchase already!
Most of all, my goal is to make the entire process fun!
I am the community manager for the Redmond Citizen Corps Council's Twitter and Facebook page.
I am deeply involved as a board member and President of the RCCC and will continue to serve my community to the best of my abilities.
Please view the RCCC link below for more information to see what we are doing to keep our community safe and prepared for emergencies and disasters.
I am also on the New Home Council Communications Committee and in charge of the Social Media accounts.
I manage several new construction communites as well and have managed communities such as Talasera in Canyon Park, Northstar on Education Hill, The Reserve in Canyon Park, Westbrook Run and Lexington Park in Bothell.
Feel free to contact me in Japanese as well if you are relocating from Japan or need to sell your home to move back to Japan.
Committee member, New Home Council Communications
Treasurer and Executive Board Member, Redmond Citizen Corps Council 2019
President and Board Member, Redmond Citizen Corps Council 2017-2019
Volunteer, Lake Washington School District, 2005 - current
Web Designer/Admnistrator Pull Out Quest (gifted program Lake Wa school district) 2006 - 2010
Northstar Block Watch captain 2005 - 2008
Dept. of Defense featured Business Success Speaker (Asian & Pacific Islanders) 2000
Corporate Sponsor for the Experience Music Project (Boom Theory)